VG Utd were held 0-0 by One Caribbean FC, on Sunday, but the result sent them and Panthers FC into the round robin stage of the FA's Super 6 Tournament.
Going into the final round of matches, VG Utd, One Caribbean FC and Old Madrid FC all had mathematical chances to stay alive in the competition, but as the results came in everything went the way of the Panthers who had completed their season with 10 points.
First, on Saturday at East End / Long Look, Old Madrid saw their slim hopes dashed, falling to a 5-2 defeat by Lion Heart FC, despite taking a 2-1 lead by the 34th minute after Fitzroy Bailey cancelled out Sheldon Browns opener and Lion Heart conceded an own goal. However, from then on it was all Lion Heart as they added goals by Shevaughn Thomas (42nd), Brown again (67th) Janelle Ferdinand (71st) and Dwayne Smith (82nd) to secure the win.
Then, on Sunday at the Virgin Gorda Recreation Ground, VG Utd and One Caribbean produced a goalless game that ultimately gave VG the point they needed, but proved not enough for One Caribbean, who despite finishing level with the Panthers on points and goal difference, ceded the 6th and final spot in the standings to Panthers, by virtue of total goals scored.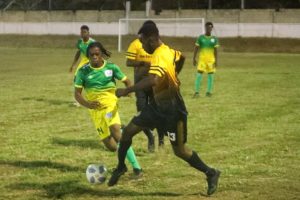 One Caribbean mustered 10 compared to Panthers 15 (14 of which had been scored by regular season Golden Boot, Nigel Sanderson.)
At the top of the table, Sugar Boys FC finished in first place following their amazing come from behind 3-2 win over Wolues FC, who had rushed into a two-goal lead through Michael Palladino (1st) and Luca Reich (25th). George Gonzalez netted in the 62nd minute to give the boys a way back and the equalizer came in the 80th minute from Akeem Hendrickson, before German Gonzalez scored the winner in the 4th minute of added time at the end of the game.
The weekend's other result saw Rebels FC secure their first win of a disappointing campaign, 6-2, against One Love FC, with Denvin Jones smashing a hat trick (17th, 45th and 62nd minutes). Austin Prentice (15th and 64th) netted a brace and Webster Pryce rounded out the scoring, whilst for One Love, Guillaume Parkins (30th) and Travalta Francis (90+1) were on the score sheet.
There is one more game to be played, which is Lion Heart FC v Islanders at East End / Long Look, Saturday 8th May at 4pm.
The schedule for the 2nd phase, round robin, of the Tournament will be confirmed, with each team having no room for defeats if they wish to reach the Grand Final.