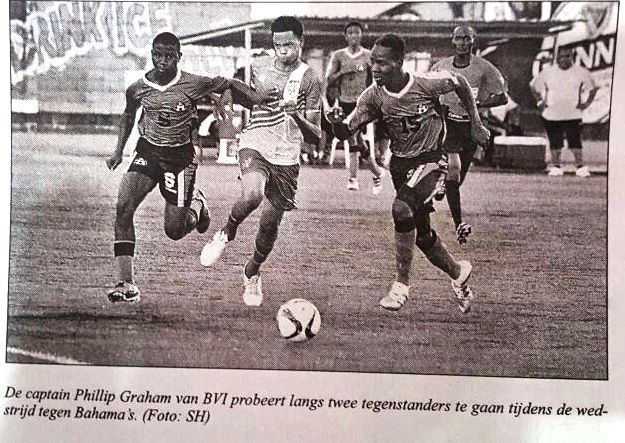 U17 Boys Off To A Perfect Start in CFU/CONCACAF Qualifying Tournament
the BVI got off to a wining start at the Caribbean Football Union / CONCACAF U17 Championship coming out with a 1-0 victory over the Bahamas in Group 6 on Wednesday 20th July, 2016, in Suriname.
In an ebb and flow first half the game remained deadlocked, but as the second half grew so did the confidense of the BVI Boys and they began to dominate the game.
Constantly arriving in good scoring position through a series of threatening attacks the BVI finally made the break through from the head of Tyler Forbes, with just over 2 minutes to go in the game.
The Bahams had chances to equalize, but the BVI defense stood firm and stuck to the principles learnt from Head Coach Avondale Williams to record the win and secure all 3 points.
"The players executed the game plan set by Avondale Williams perfectly" noted Asst Manager, Richard Lake "The match was played in stormy conditions and to win is a great moment for the Territory. We are all so proud of them"
Tonight, the BVI will face Suriname who beat Anguilla 6-0 in their opening match. Knowing a win will put them into the second round, with a game to go – against Anguilla on Sunday
Jamaica became the first team to join host Trinidad & Tobago in the final round of Caribbean qualifying for the 2017 CONCACAF Under-17 Championship, when it defeated the host US Virgin Islands on Tuesday, 9-0, to complete Group 4 play with a perfect 3W-0D-0L record.
In the win at Ivanna Eudora Kean High School, Thirston Briscoe (15', 40') and Chad Letts (78', 85') led the way with braces, while Cobi Atkinson (29'), Jeremy Verley (33'), Damani Osei (36') and Kaheem Parris (76') added one goal apiece.
Second-place Antigua & Barbuda was paced by Shalon Knight, who struck for a tournament-high four goals, including three in a 5-1 win over the US Virgin Islands.
The competition is being contested between 25 teams, with the six, first-round group winners, plus the best runner-up, heading to Trinidad & Tobago for the final round in September.
The 2017 CONCACAF Under-17 Championship will have a field of twelve teams: Panama as host; three from Central America, five from the Caribbean and three from North America.
In other results.
Dominica 0 – 9 Cuba, St. Kitts and Nevis 2 – 2 Barbados, Bermuda 2 – 1 St. Lucia, St. Vincent and The Grenadines 0 – 2 Grenada, Cayman Islands 4 – 0 Aruba, Haiti 3 – 0 Puerto Rico, Guadelope 8 – 0 St. Martin, Dominican Republic 2 – 4 Curacao