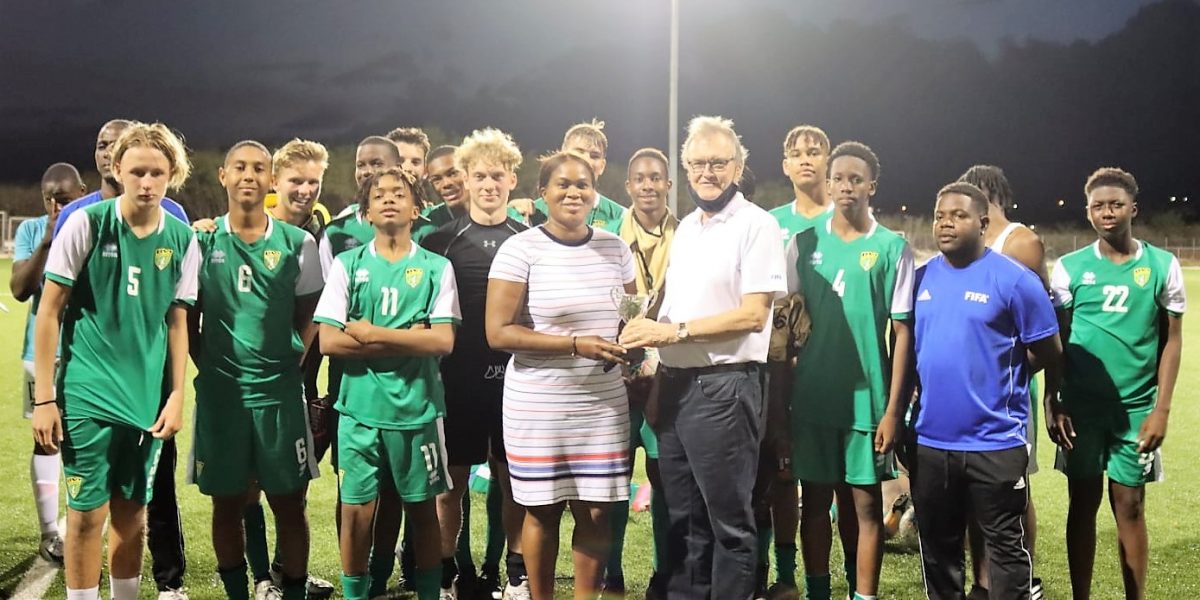 The U17 National Team returned home from the Turks and Caicos Islands with the three-match series ending all square and Quelahni Nickie being named MVP.
According to Head Coach, Clinton "Tinnie" Percival it was a very successful trip and one that will definitely help the future development of the squad "The Boys had a chance to showcase all they have been working hard towards" he stated "and it gave us Coaches a chance to see what we still need to work on to make this group even stronger and better. As the FA continues to build the capacity of our young players, we will eventually have a formidable team."
The final game of the grueling series which saw back-to-back games over three days at the TCIFA National Academy facility ended as 1-1 draw after Johari Lacey had rifled home a bullet shot into the top right corner from 25 yards out inside 5 minutes of the start.
The hosts were able to claw back level not long after and despite having a couple of goals disallowed the BVI was unable to find a winner.
"I think it was our best game" noted Percival "the Boys showed excellent team play and ball movement and showed great fighting spirit to deal with the hosts sustained pressure. Nickie must be especially commended for his tenacity and strong ball play in midfield and defense over the three games, which earned him the MVP Trophy."
The second game had pitted the BVI U17's against TCI U21's and proved a much more technical game and saw the hosts run out 2-0 winners.
"our Boys held their own throughout the game and created some good chances" commented Percival "They were older and somewhat more experienced, but these types of games will help the players to grow."
The Tour had got off to a bright start as the Boys ran out 1-0 victors over the TCI with a made in VG goal proving decisive as Sheldon Toney supplied the assist on a goal for T'Khoi Richardson.
"it was a very tough and physical game" summed up Percival "the team was on the receiving end of some hard and harsh tackles but showed great fortitude and discipline. Defensively we were strong and were able to deny TCI any shots on goal."