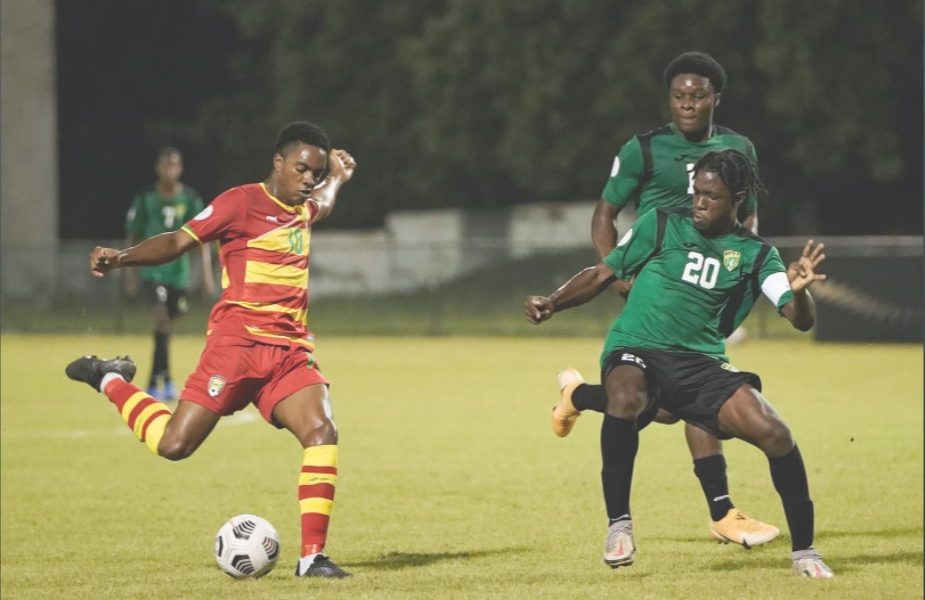 The BVI returned to the field of play on Tuesday in the 2022 Concacaf Men's Under-20 Championship Qualifying in the Dominican Republic but suffered a 4-0 defeat at the hands of Grenada.
The Spice Boys found their scoring stride with four different players finding the back of the net in the victory which lifted them to first place in the group. Keishon Clarke (27'), Aquil Lawlite (33'), Ogiste Lemoud (45+2') and Benjamin Ettienne (67') netted the goals.
According to Coach, Clinton "Tinnie" Percival "The boys played well compared to our last game, they worked hard as a unit, but made a few individual errors that cost us the four goals "
Percival also noted that he had seen a vast improvement in the way the team defended and attacked "I must say that I am pleased, not with the result, but with the effort and desire that was displayed in the game"
However, Percival also bemoaned that it was unfortunate "that we have to be using the actual tournament to get playing time as a full unit, but they're improving with every game, and we just have to put this game behind us and continue to work hard and improve on making less mistakes. I am expecting an even better performance and result in our next game."
FA President, Mr. Andy Bickerton, in the crowd supporting the Boys also felt there were some signs of improvement "This was a much better team performance. They held their shape with discipline and the players had a better understanding of their roles. Unfortunately, we conceded goals from personal errors, but that is what happens with young inexperienced players, so we have to take it and move on."
The BVI will be up against Sint Maarten on Thursday, a team who collected their first win of the tournament in a 2-0 final over Dominica. Jean Jacques Craane scored in the 37' before Reshawn Eustace polished off the three points with a goal in the 88'.
The BVI face Dominica in their last game of the Tournament on Saturday
The full BVI squad includes, William Butler, Mekhi Walters, Oliver Henderson, Tai Thomas, Jalen Prentice, Jahmal Prentice, Ikyjah Williams, Justin Smith, Devin Jones, Alejandro Santos, Johari Lacey, Deshawn Richardson, Levon Williams, Luka Chalwell, Sheldon Toney, Gethin Jones, Jarrell Federicks, Milton Creque, Jaden Abrams, Jake Forbes, and Malakai Stanners.
The Technical Staff is Coach, Clinton Percival, Asst Coach, Ritchie Morton, Trainer, Javon Carty, Physio, Levy James, and Manager, Cathie Caine.
At the conclusion of the Championship, the finalists (two teams) will qualify for the FIFA Men's U-20 World Cup Indonesia 2023 and 2024 Paris Summer Olympic Games. The two losing semi-finalists (two teams) will also guarantee their participation in the FIFA Men's U-20 World Cup Indonesia 2023.
The 2022 CMU20 Championship Group Stage will be played the summer of 2022.