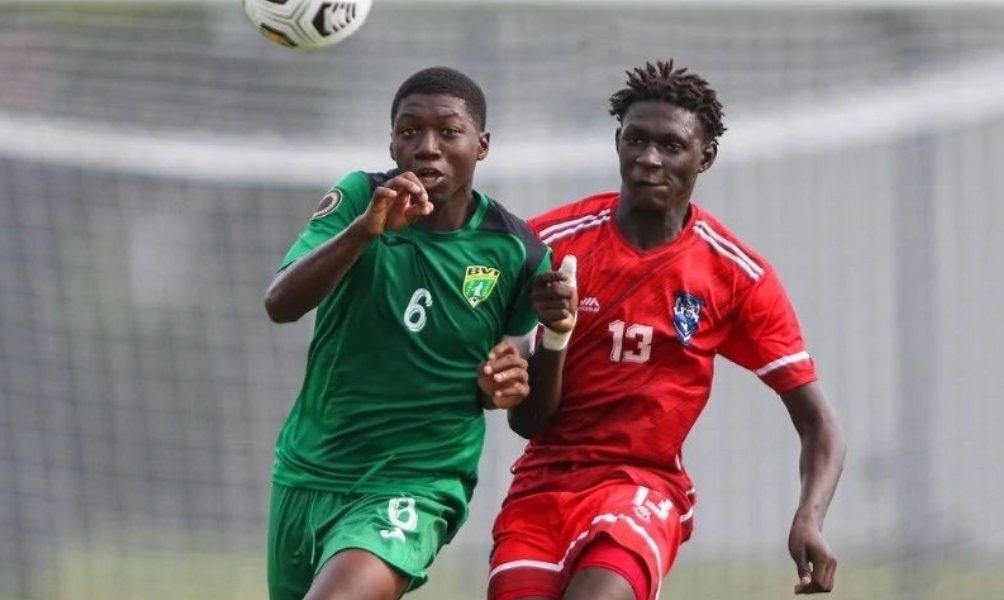 Saving their best until last, the Boys came from behind to record a first win of the CONCACAF U17 Championship, 2-1 against Saint Martin, in Bradenton, Florida, on Wednesday.
Whilst the win was not enough to improve upon the league standing, finishing fourth behind Bermuda, Bonaire, and Guyana, it was good enough to finally show that the team can play and that brighter things and better results are well within their grasp.
Despite falling behind, the team has always shown great spirit in adversity and although in previous games they had been unlucky not to get positive results that performances deserved, this time they battled back to pull level through the cool finish of Johari Lacey and then within minutes found themselves ahead as Jadon Abrams found the back of the net from the penalty spot to make it 2-1.
The score would remain that way until the final whistle and the celebrations began
"I gave my team a boost with the goal" commented Abrams "we then had the confidence to know we could win the game and finally get to celebrate a win and leave happy"
"The game was good with a high intensity" stated Lacey "I had a feeling I was going to score today and could have had a hat trick. At the end of the day, we got the win, and it is a good feeling"
Team Captain, Jaden Abrams was slightly disappointed overall, but felt the team had gotten better and better through the Tournament "Overall we did all right but should have done better. As the Tournament progressed, we improved and today we finally got a win and will enjoy it"
Coach Jermain Abrams could finally breathe a sigh of relief that his team got over the line for its first win "I'm a super proud Dad today" he beamed "Not only of my two Boys, Jaden the Captain and Jadon who scored the winner, but all of them have become like my sons during the Tournament – Azarni, Johari,  Emanuel, Samuel, Nathaniel, Jefferson, Orett,  Joel, Rush, JJ, Oli, Kai, T'Khoi, Curtis, Sean, Devon and if I missed anyone, then them too. I am really proud of all of them"
Abrams did note that despite early setbacks the team had gotten better and gone from strength to strength and identified finishing as an area of the game that they really need to work on for the future.
In the game against Saint Martin, Abrams also recognized from early that Saint Martin could be exposed on the counterattack and even though the intensity of their opponents was a surprise, Abrams' team kept patient and waited for their moments during the game to be decisive.