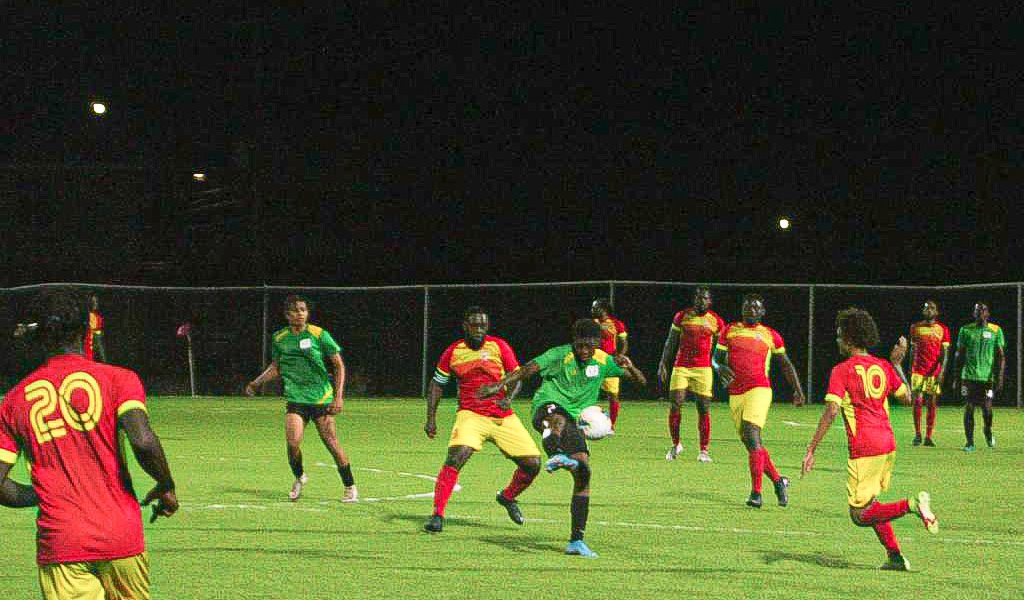 Rebels FC had a convincing 3-0 victory against VG Utd on Sunday at the East End / Long Look venue, to go level on points atop the National League standings with Sugar Boys FC.
Both teams now have 26 points, but the Sugar Boys have three games in hand over their nearest rivals. The Boys also have a better goal difference than Rebels, but that was reduced to five following the comfortable win over VG Utd.
All the goals came in the second half as Rebels weathered a VG storm in the first half and then gradually exerted dominance over the tiring youngsters. Webster Pryce opened the scoring in the 60th minute, Ikyjah Williams added a second in the 67th minute and Johari Lacey scored his tenth of the season to make it 3-0 in the 82nd minute.
"The team went out with a game plan, and we executed well" commented Coach Lenon Audain "We gave them the first half in terms of possession, but in the second period we clearly dominated the game, with Webster coming into the game and taking control of the middle. Next weekend is another tough game, against One Love, but one that we are looking forward to"
"We certainly dominated early on and could have scored a few goals" admitted VG Coach, Jermain Abrams "We seemed to run out of gas in the second half and made some mental errors with marking and how we were able to react to situations, but Rebels played better than us in the end, a good game between two top teams and we will rebound!"
There are five games this coming weekend with perhaps the spiciest being the matchup between Rebels and One Love coming just after a previous game, won by One Love, had its result overturned for the fielding of an ineligible player by One Love.
Saturday 26th March
One Caribbean FC v Islanders FC, 7.00pm at East End / Long Look
Rebels FC              v One Love FC, 6.00pm at East End/ Long Look
Sunday 27th March
Lion Heart FC       v Old Madrid FC, 8.30pm, East End / Long Look
Sugar Boys FC      v Panthers FC, 5.45pm, VGRG
VG Utd                  v Wolues FC, 8.00pm, VGRG