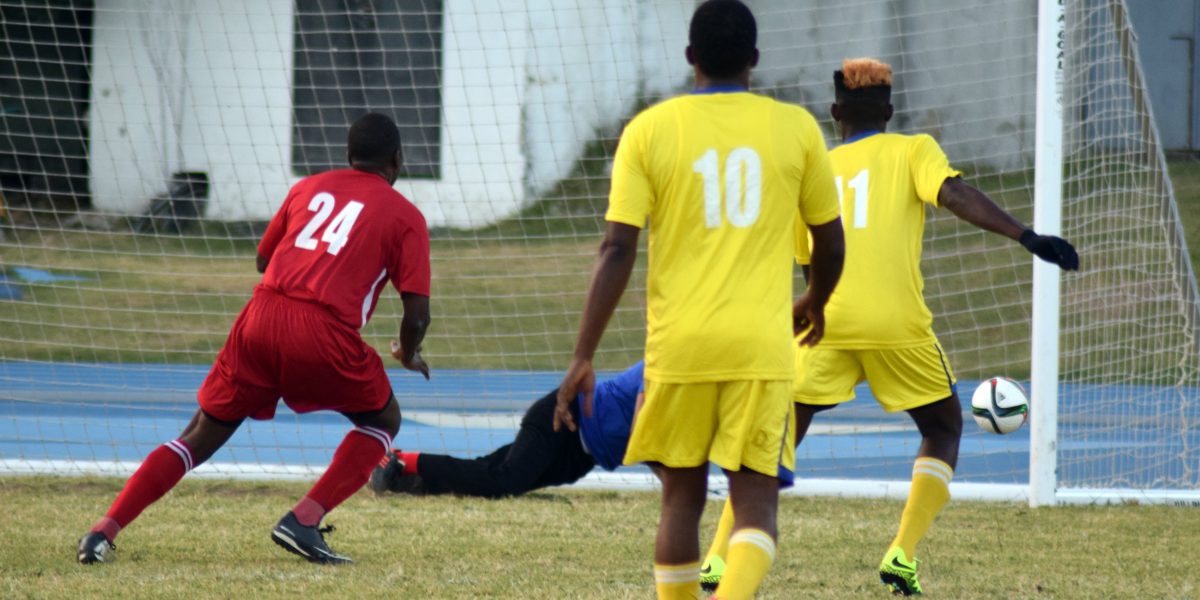 Race for the Final Four and Golden Boots all up for grabs after last weekends action packed resumption
with the Islanders all but assured the BVIFA National League Title, the race to see who will join them in the top four is far from clear after results, especially the Old Madrid defeat of Rebels F.C. on Sunday 15th January, 2017, left many permutations still open
The first game of an action-packed weekend, as the league resumed on the A.O. Shirley Grounds, saw Virgin Gorda United go down early to a headed goal from Sugar Boys' Akeem Hendrikson and then had two clear cut chances to equalize go to waste, before Mohamed Kachour doubled the lead.
Joshua Ramprasad pulled one back and Thomas Albert also hit the bar for VG, before Derol Redhead headed home unmarked to make it 3-1.
Roger Roberts sprang the offside trap late in the first half to make it 4-1 and Terrence Nanton rubbed salt into the wounds to make it 5-1 right at the break.
Kachour made it 6 almost immediately after the restart and with Vg sitting back in damage control mode there would be no further scoring.
The Islanders the beat the Panthers, 5-0, on goals from Kevin Fisher (2), Julian Davidson, Frances Primo and Kevon Smith
The race for the top four was thrown wide open on Sunday, when first, Jamie De Louise fired home in the 81st minute for Old Madrid as they posted a famous win over the high-flying Rebels F.C.
Kenrick Grant made several important first half saves for Old Madrid, including saving a penalty from Michael Baptichon and his team mates continued to be strong defensively throughout the second half to deny their opponents and then when it seemed a draw was on the cards, up popped De Louise to steal the show.
And then, the Wolues F.C, lost 1-4 to One Love F.C.
With only Christopher Farmer, replying to goals from Trevor Ellis, Shamoy Thomson, Breaton Douglas and Richard Morgan
The results mean that whilst the Islanders are a win away from being official champions with 3 games to play, the Sugar Boys remain mathematically able to catch them with 4 games to play.
The Rebels stay third on 19 points despite their loss and both Old Madrid and One Love now have 15 points to be joint fourth. The Wolues slip to 5th on 13 points.
The race for the Golden Boot has also reached fever pitch as three players, Kevin Fisher, Richard Morgan and Kenmore Peters, all have ten goals.