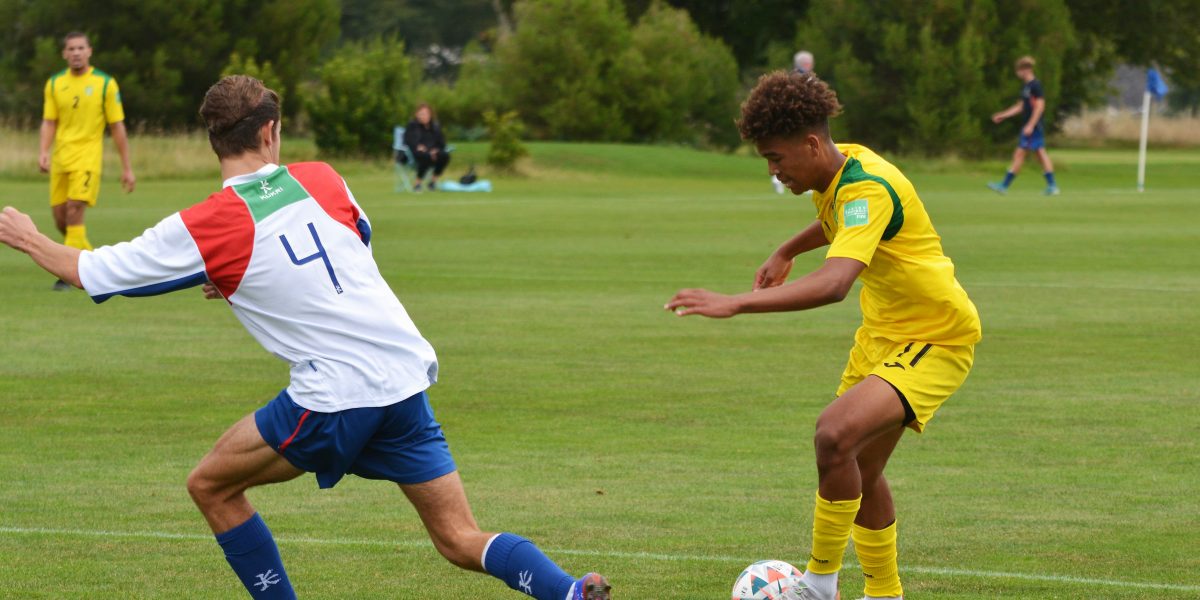 Products of the BVIFA / BDO School Leagues, Luka Chalwell and Jake Forbes are keeping interest in England's FA Youth Cup alive for their club Poole Town FC.
Poole kicked off their FA Youth Cup, England's most prestigious Youth tournament, campaign away at Bermerton Heath Harlequins, last week, with a comfortable 5-1 win.
There was a healthy crowd at Moon Park for this Preliminary Round tie, as the Dolphins named a strong squad that included Will Butler in goal and Luka Challwell in midfield, both players who have full senior caps for the British Virgin Islands, and Jake Forbes.
Chalwell thought he must have opened the scores when he cleanly volleyed from a corner, and whilst the Bemerton keeper was nowhere near it, a cleverly deployed striker on the line managed to deflect it onto the post.
The British Virgin Islands international would open the scores minutes later though rounding off a lovely passing move that included all of Dolphins' attackers.
Picking up a loose ball, Chalwell scooped it across to Stephenson, who quickly switched the play to Coleman and all Coleman had to do was tee up Chalwell, who calmly slotted home the opener.
Again, Chalwell showed his quality on 16 minutes, punishing a poor goal-kick. Receiving the ball just past the halfway line, Chalwell went on a slaloming run that ended with the midfielder placing the ball into the bottom corner.
Referee, Lucas Bomela awarded Poole a penalty, which gave Chalwell an opportunity to notch his hat-trick, but he miscued his spot-kick, firing it into the trees behind the goal.
Poole would get their third from another set-piece – this time a free-kick on the edge of the area, a goal that seemed to fire the hosts into life as shortly after conceding the third a long-range effort sailed into the hands of Butler, launching a spree of Bemerton chances.
Butler was called into action to tip another pot-shot from range, and then did well to save from close range at the resultant corner.
The second half started off evenly contested, with both sides maintaining their levels of intensity and   Bemerton were gifted a way back into the game from a set-piece on fifty minutes.
Substitute Forbes quickly restored Poole's three goal cushion, rushing through the open Bemerton defense to place the ball home on the hour mark.
From then on it was all Poole, with Chalwell again given the chance for a hat-trick from the spot which he duly converted despite the goalkeeper getting a glove on it.
In the next round Forbes and Chalwell were again on the scoresheet as Poole Town beat Dorchester 2-1 to progress to the second round of qualifying and a tie away to Gosport Borough