Day 3 of the World Cup squads camp in Curacao was all about the tactical and technical aspects of defending and attacking wide areas and took place behind closed doors at the Ergilio Hato Stadium
Coach Morris Mark also got to put in some work with the three goalkeepers, Phillip Jules, Daniel Gilford, and William Butler, and given the levels of performance shown by all three there could well be a healthy competition brewing to see who gets the starts.
Each keeper brings a vast array of talents and individual qualities that will stand the team in good stead between the sticks and bring credence to the defensive confidence and cohesion.
Phillip Jules has been involved with the National set up a while now despite his young age and is full of excitement for what lies ahead "the step up to this level is surprising and to be honest I never thought I would make it, but it is a dream come true. I cannot wait for the games and believe we will cause some upsets. The atmosphere in the squad is good, we have known each other for a long time now and we are full of energy and there's a good vibe about the place."
Coach Mark is equally impressed with what he has seen so far within his keeping group "they are very young, athletic and full of determination" he said" they are good listeners a little inexperienced, but you can see they are eager to improve and very driven to help each other"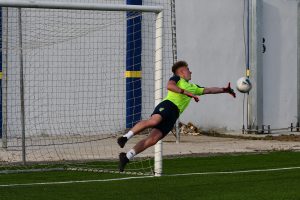 Jules is currently in pole position out of the three keepers and thoroughly deserving of such given his talent and how much he has had to battle through to reach this accolade " he has a lot of talent and I've been around him since we went to Trinidad and Tobago with the U17 team, when he was just eleven" said Mark "he has pushed himself and had some good people supporting him on this journey. He is levelheaded and determined to make his country proud."
Training resumes today with more strategy sessions ahead of on field time practicing Transitions, Recovery and of course the dreaded "Spin the Wheel" which has been introduced by the Coaches to act a s alight hearted end of the day activity with players getting punishment challenges like singing, dancing, clearing tables, fines and other penalties put together by the squad members.
Full squad: Phillip Jules, Daniel Gilford, Willia