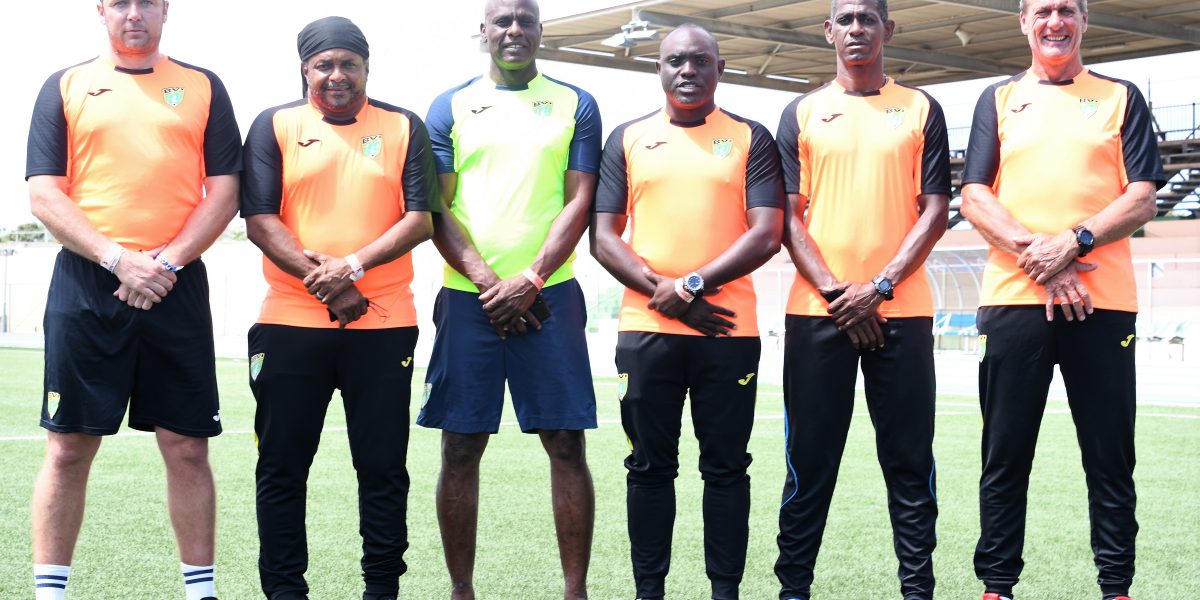 Coach Neville believes winning results are just around the corner after strong performances in World Cup qualifiers against Guatemala and SVG
With just about eight weeks to go until the Men's National team face Cuba and Curacao in the CONCACAF World Cup qualifiers, Interim Head Coach, Dan Neville is firm in his belief winning results are just around the corner.
The first two games against Guatemala and St Vincent and the Grenadines, played in Curacao , both resulted in 0-3 defeats, but according to Neville there were many positives to take into the next games.
"we had a 10 day build up before the first game" he said "and despite having to overcome many issues to do with an outbreak of COVID-19 and a lock down in Curacao, it was great to get the players back together for the first time since 2019, introduce a group of talented youngsters to the demands of International football and I think the staff and players left in a better place than when we arrived".
Apart from the successful full debuts of Luka Chalwell, Ikyjah Williams, Justin Smith and Luca Reich, others like Giovanni Grant and Philip Graham were also making World Cup debuts, having already played in the CONCACAF Nations League, which meant the BVI ended the two games with an average age of  19 against the usual average of 25 around the World.
"when you concede things like that, then results will rarely follow straight away" noted Neville "but we are well ahead of our projections in the 5-year plan and with such a talented group bursting through, then better results are just around the corner. The youngsters really made an impact when they came on, added some energy, and can only get stronger and better.
Neville was also impressed with the way the different groups of players, with some based in the UK, some in the USA and the majority in the BVI gelled together quickly and although maybe not able to continually match their more illustrious opponents, certainly caused both the Professionals of Guatemala and SVG enough problems to add to Neville's convictions of a bright future.
"I think if you speak to any National team coach who has players coming from far and wide, they will tell you that getting them to mould as a team is always a challenge, so I think we actually did manage that part quite well. Result wise, obviously not as hoped, but if you look at the Guatemala game, for in the 1st 30 minutes you know we really got after them and created one or two good opportunities. We had good possession and forced them to change their formation and tactics. Yes, we conceded a couple of sloppy goals, but we had a never say die attitude and in the second half, held our own, had a few chances, but we could not quite get the break that we needed to get back into the game.
One of the other issues that perhaps did not go quite right was the effects of playing such an intense game against Guatemala had on some of the players and Neville intends to put that right during the preparation for Cuba and Curacao.
"it was a really quick turnaround, just 48 hours between the Guatemala and SVG games, and we will have about the same in between Cuba and Curacao, so I think we're going to be really strategic in the two sides that we pick to ensure that we have enough legs going into the second game to be competitive from the start. Looking back now maybe we should have shuffled the pack a little bit more and we will be really seriously considering almost two different line ups".
Due to continuing logistical problems caused by the Worldwide pandemic, the venue for the two upcoming World Cup qualifiers for FIFA Qatar 2022 has not been confirmed, but they are scheduled for June 2nd and 5th, 2021.
However, the potential squad members are all back playing, training, and keeping in shape and eagerly await the final squad announcement.