With two games left to play in the CONCACAF U17 Championship qualifiers, the BVI Boys will be looking to right some wrongs and put points on the board against Guyana and St Martin.
Guyana are today's opponents at the IMG Academy in Bradenton, Florida (Monday – 9.15am Kick Off) and they have suffered a defeat by Bonaire and recorded two victories, against Bahamas and Saint Martin, and sit third in the group on six points.
Meanwhile, the BVI have fallen in all three games played so far, including the latest match up with the Bahamas, which resulted in an identical score line to when the two teams last met back in 2016.
Robert Holcombe scored the only goal of the game (33rd minute) for the Bahamas as they edged the BVI 1-0. The goal came from a defensive error straight after the refreshment break, from a free kick just inside the BVI half and came against the run of play, with the BVI Boys bossing possession and causing the Bahamas constant threats from down the flanks.
The second half continued in much the same vein as the Boys, urged on by the Coaches, looked for the equalizer, but despite good build up play, the final ball somehow went begging and the Bahamian defense stayed resolute.
"We just couldn't get the connection in their box" commented Coach Jermain Abrams "nothing seemed to fall for us, and their goal came from nothing. There were some heavy legs out there, the team played well overall and once our luck changes, then satisfactory results are just around the corner.
The defeat marked a third in a row for the BVI who have definitely been on the wrong side of lady luck in defeats to Bermuda, and Bonaire, but it is a learning curve and not once have the team let their heads drop.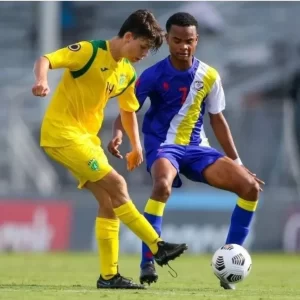 "Another tough game! (against Bonaire). We bounced back well after the defeat against Bermuda, but made some simple mistakes to end up losing" noted Abrams "we were physically ok, but mentally we weren't quite right and gave them gifts"
Bonaire were gifted an opener in just the 8th minute and despite Johnny Jay Rowe equalising for the BVI in the 32nd minute, Bonaire would snatch what turned out to be a winner in the 35th minute
And in their opener against Bermuda, the Boys conceded three first half goals before rallying and putting in a much more disciplined second half performance, before Bermuda wrapped up the points, adding a fourth in the 75th minute
Abrams was proud of his team, not proud of the result but proud of the performance
"We started well as a team, despite Bermuda being very good on the press and with the ball. We gave them a penalty and as the humidity began to affect the players, we gave away a soft second and it was n uphill battle from there. We defended resolutely, compact and organized, but another penalty killed the game off, but overall, the team played together and stuck at it"
Group play concludes on Wednesday 7th September with a game against Saint Martin at 9.00am