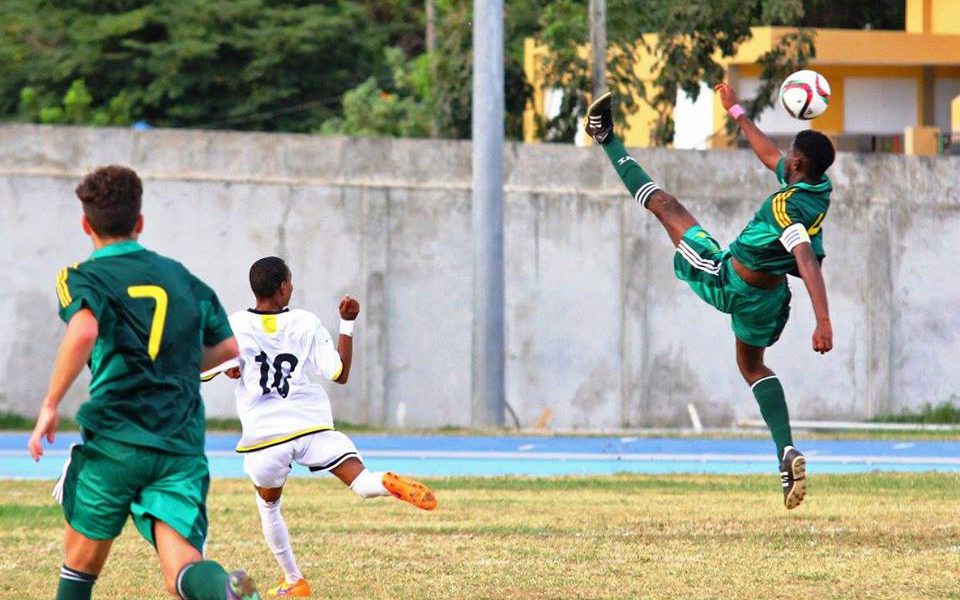 Troy Caesar, a shining example of the FA's Youth development system, is making all the right moves during College Career
With one last semester to go of his two year stint at Andrews College, in Atlanta, USA, 22 year old Troy Ceasar, has already begun the process of looking at his next step, with his organisational and focused ability that has kept him progressing in both his life and the sport he loves, Football.
Cesar has been fantastically supported by his Parents during his stay at College and has also received funding from the FA's Scholarship programme, which was launched by President, Mr. Andy Bickerton some five years ago and has already given Academic opportunity to over half a dozen Male and Female soccer players.
A product of the Football Associations Youth Development and School Leagues programmes, Troy has most recently been rewarded with a pick on the Caribbean Football Young Stars awards, 2016, in which 15 young players from around the Region were nominated by Coaches and Writers.
"when I first saw, I was included on the list of the top 15 Caribbean youth players a tear came to my eye" noted Cesar "I wasn't expecting it all, but thanked God for the selection and my Coaches"
To make the list Ceasar had to be U23 and born in the Caribbean as well as have his performances for College, where he has already received All Region Honours, Club and Country closely followed throughout 2016.
His Coach at Andrews, Rudy Roediger says Ceasar has a top speed of over 20 miles an hour, is skilful with the ball, with a bit of flair and has learnt to use both feet. He completes roughly 80 per cent of his passes and steps out of the defensive line with awareness and a will to win the ball. He wins 90 per cent of his aerial duels with his 38 inch verticals and is a very versatile player.
Being at Andrews College opened my eyes to education and to football.
"The systems they utilise for both have showed me how to learn and appreciate my talents. I learnt several things that people from the Caribbean shouldn't just expect to happen, but what you can achieve through hard work." Noted Ceasar
"The playing style of soccer was different at first, but the system, to play from the back and have more confidence, helped my game and showed me I could really compete with other players from around the world"
Troy, a very humble and honest young man also heaped praise on the Coaches he has worked with coming up through the system in the Territory.
"I have to thank Cassandra Gregg who not only bought me my first pair of boots, but gave me the opportunity to play in the Primary School league with Willard Wheatley, although I was attending Francis Lettsome, who didn't have a team." he explained "From there Vincent Samuel, the then Development Coach at the BVIFA and my Club Coach, the Ballstars, also helped me a lot technically as has the current National Coach, Avondale Williams"
Ceasar made his international debut at the age of 16 in a tournament in the Dominican Republic.
"The National team were training to go to Santo Domingo and luckily for me I had a BVI Passport so was selected, as FIFA had just introduced a new ruling on eligibility. We lost both games in the Tournament, but it was a great experience."
Troy was made captain in a Caribbean Cup match against St Vincent in 2016
"I was just handed the Captains band. I was in shock, but honoured and very happy to receive it. Becoming captain gave me more responsibility and leadership skills, which also helped me once I became the College Team Captain"
Troy has some great words of advice for the upcoming younger players looking to follow in his footsteps.
"Put god first, then discipline, a lot of discipline and a lot of hard work, not just in your game, but also in your school work. If you get to college the only way you can get to play is by doing your school work. Off the pitch, work hard and the coaches will always give you a chance."
Ceasar is currently studying computer programming and business administration and will continue to do so when he finally decides on which of his offers he takes up.
He supports Chelsea from the English premier league and recommends all young players to watch as many games on TV or live as they can, so they have a better understanding of the game and get better themselves by emulating their heroes. He also suggests youths always train and play as best as they can, because they never know who is watching.
"Most of the Caribbean countries have youth teams and they all need to get more playing time and exposure, whether as a team or by attending academies around the world. A lot more competition for the youths improves the standard and gives opportunity to the players."
One day Cesar would like to make it as a pro player and sees college as a great way of achieving that goal!