There were plenty of goals in this weekends National League action, with Old Madrid FC leading the way with a 9-0 victory against Positive FC, whilst VG United overcame Panthers FC 7-1.
Once again, all the action was at the FA's new headquarters in East End / Long Look, starting with Bernard Cumberbatch hitting a hat trick for VG United on their way to an emphatic victory. Adrian Padilla netted twice and there was a goal each for Jaden Abrams and Joel Mars in what was described by Manager, Jermain Abrams as a good bounce back after a couple of weeks off.
Abrams went onto to add that his youthful side really stepped up "we were missing some of the veterans" he said "but the youngsters stepped up, used their speed, got the ball moving and more than held their own defensively. We were hoping for a shut out, but unfortunately, they scored as our defense did not deal with a bouncing ball. Overall though I feel really good about the win, feel really good about the rest of the season and am proud of the way the team played and are enjoying playing together"
Ezra Alleyne scored the sole goal for Panthers.
Old Madrid kick started their campaign under new coach, Kelvin Eubanks with a 9-0 romp against Positive as first Jodini James and then Felix Percival, on his way to a hat trick, followed by Terrance Smith and Kenmore Peters made it 4-0 at the break.
The second half of the game which Eubanks saw as a great confidence boost for the rest of the season, saw Old Madrid score five more unanswered goals as Percival completed his hat trick, Nano Ottley fired home twice, and Anthony Bramble also got on the score sheet.
"Delighted with the win" commented Eubanks "we were able to take advantage of the tactics they used and capitalize on some of the weaknesses we saw. It's not been a great season so far, so hopefully we can take the positives from this game, work hard, and improve how we play from now on"
In the other games played, Rebels FC and Lion Heart FC shared the points in a 1-1 draw, as Johari Lacey's 31st minute opener for Rebels was canceled out just 7 minutes later by Shavaughn Thomas.
"We should have scored more and certainly had chances to do so" lamented Rebels coach, Latoya Sue "we gifted them their equalizer, but all in all it was a really good game and I'm proud of the team"
One Love FC rounded out the weekend with a 3-1 win against One Caribbean FC as Shayne Prince fired home a hat trick to put his team in the ascendancy. His goals came in the 10th, 35th and 46th minute, whilst Charles Pierre had given his team some hope with a penalty in the 29th minute.
"Not a bad game at all" commented Manager Marc Savage "we dominated the game from start to finish and it was an easy game for us. We kept the ball, moved it around, found the gaps and took our chances. Their keeper was in good form and denied us a few more goals, but we kept our composure and were victorious"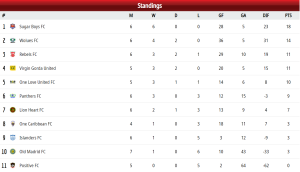 Upcoming matches
Wednesday 7th December
EE/LL 7.00pm –   One Love FC         v          Islanders FC
Saturday 10th December
EE/LL 6.30pm            –   Wolues FC             v          Sugar Boys FC
EE/LL 8.30pm –   Panthers FC           v          One Love FC
Sunday 11th December
EE/LL 6.30pm            – Lion Heart FC         v          VG United
EE/LL 8.30pm            – Positive FC              v          Islanders FC