The Sugar Boys FC closed out the year firmly top of the National League standings with a six-point cushion, after a 2-1 win against Rebels FC on the VG Recreation Ground on Sunday.
Already shorthanded, the Boys dug deep in front of their home fans to claim the win thanks to talisman striker, Derol Redhead who popped up in the 76th minute to score the winner and his Golden Boot leading tenth of the season.
"Thumbs up to the whole team" stated Redhead "having started with just nine players everyone came out and gave 100%, supported each other and had amazing communication to stay positive. We played as team and got the result we wanted, but it was a hard game"
Romaine Henry had put the Boys ahead in the 41st minute before Curtly Peters equalized in the 53rd.
Lion Heart FC may just be the team that the Boys need to watch out for, as they claimed a second straight win, 4-2 against Panthers FC and are now unbeaten in five.
"Another well-deserved win" commented Coach/Manager, Winston Brown "it was our last game before Christmas and gave ourselves the perfect present of three points. The game was really competitive, but we stayed focused, the players did what we asked of them, and our game plan worked"
Tyrone Buddah may well be the final piece in the Lion Heart jigsaw as he scored his sixth and seventh goals of the season in the win and has been at the forefront of the recent success for the team. Ashani Barret also scored twice in the win.
Jhon Samuel and Ezra Alleyne kept Panthers in the game at 2-1 and 2-2 respectively, but in the end Buddah's second half double proved too much to handle.
The league is now on Christmas break and will resume on January 7th, 2023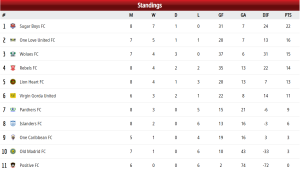 Golden Boot Leader Board