The squad has safely arrived at its base in Curacao ahead of the first round of CONCACAF Qualifiers for the FIFA World Cup, Qatar 2022 games against Guatemala and St Vincent and the Grenadines.
Based at the Acoya Hotel, just across the road from their main training ground in Willemstad, the players have already begun work on acclimatization and fitness with Strength and Conditioning coach, Javon Carty, as well as being given comprehensive plans on strategy and expectations from the coaching staff, including Dan Neville, Clinton Percival, John Reilly and Morris Mark.
One of the debutants Kevin Fisher-Daniel felt the work out had been a nice introduction to the Camp and had set the tone as to the levels of hard work to be expected "it was just a little thing, but good to have the entire squad together. The work out certainly helped to get rid of the jet lag, but I feel match fit and am ready to go!"
Fisher-Daniel also said he was thrilled to be a part of the squad, ready to go for a win and to give his all.
Coach Carty was also happy with the first session "they are looking very good, the fitness level seems high, and I'm definitely pumped up to see how they perform on the field."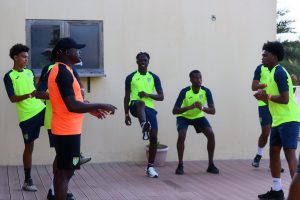 The squad will have another strength and conditioning session today (Friday 19th March) ahead of an afternoon of training at the Curacao National Stadium named after local goalkeeping hero, Ergilio Hato.
A full programme of training will continue over the weekend and then on Monday a warmup game against the local Division One Champions.
The BVI play Guatemala on Saturday March 27th behind closed doors, due to local COVID-19 protocols and then St Vincent and the Grenadines on Tuesday 30th March, also behind closed doors.
Both games kick off at 6pm and details of how to watch will be confirmed by the FA as soon as they are available
Full squad: Phillip Jules, Daniel Gilford, William Butler, Kristian Javier, Giovanni Grant, Miguel Marshall, Jerry Wiltshire, T'Sharne Gallimore, Jamie Wilson, Joshua Bertie, Carlos Septus, Robbie Green, Tyler Forbes, Justin Smith, Luka Chalwell, Luca Reich, Liam Blok, Kevin Fisher-Daniel, Ikyjah Williams, Jahmal Prentice and Charles Medway
Head Coach; Dan Neville
Asst Coaches; Clinton Percival and John Reilly
Fitness Coach; Javon Carty
Goalkeeping Coach; Morris Mark
Coach; Richie Morton
Manager; Wendel Nichols
Physio; Sheldon Harry