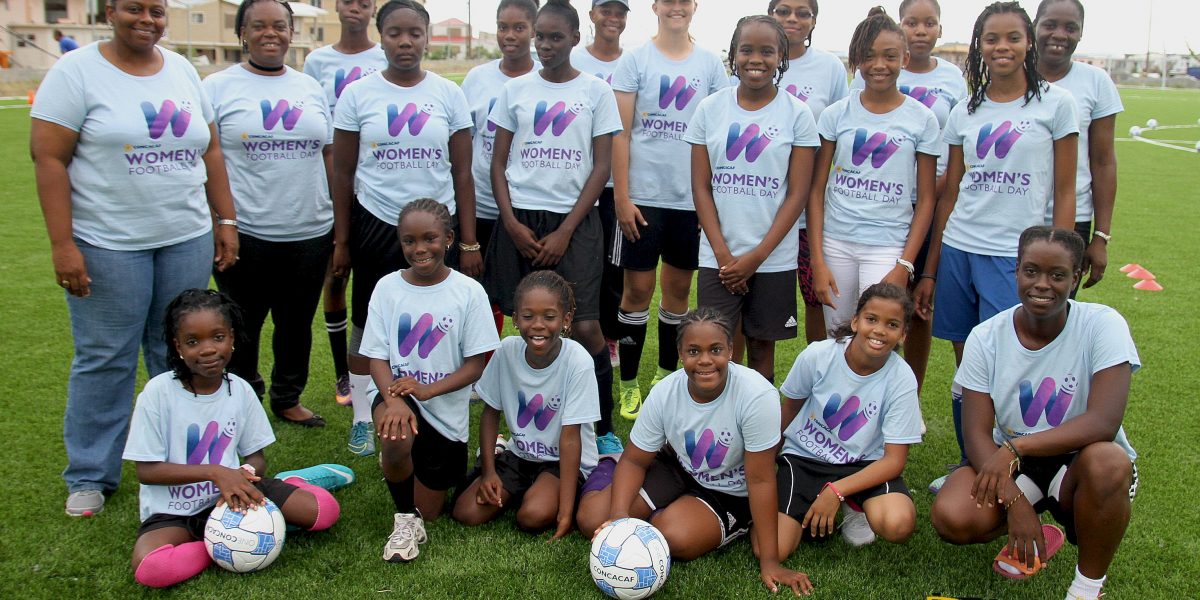 the Football Association staged a remarkable CONCACAF Women's Day Celebration on Saturday 18th November, 2017, on the new Pitch at East End / Long Look.
The Event was remarkable because not only did it come on the back of the devastating storms that smashed their way through the Territory two months ago, but also despite the mass exodus of Residents and School aged Girls, the numbers who turned out and braved the rains, were well into the high 30's
"It's nice to see all of you out here" commented General Secretary of the BVIFA, Mrs. Julianna Luke "we have had some challenges, but the interest shown is a good sign"
Mr. Dean Greenaway, on behalf of the acting Director, Mrs. Brenda Lettsome-Tye, noted it was a historic day, as it was the first time the Women's Event had used the new field. Greenaway also stated the enthusiasm was wonderful and the positive energy a great sign for the future
BVIFA President, Mr. Andy Bickerton addressed the Girls with further words of encouragement "it is really good that you could all turn up and although we couldn't get the Girls from Anegada here, the numbers are better than we expected. The challenges after the Hurricanes are well documented, but the idea today is to introduce more of you into Football as there are so many opportunities, whether it be playing, Coaching or being an Official. Resources will be put into your game and it won't be long until there is a Nations League throughout the Caribbean for Ladies"
Bickerton also confirmed that the FA was working with FIFA to quickly address the damage to the field and in a short time it would be back to fully functional.
There was also brief comments given by Lilly Pierce, a highly rated Youth player " I hope everyone has a good day and really enjoys themselves"
Jackisha Rigobert, the most recent U15 Girls Captain, encouraged all the Girls to do their best and take the opportunity to show off their skills and to keep on going regardless of situations. "I'm going to keep it short and sweet and it is great to see all of us looking good in our CONCACAF Shirts and looking strong. Even if you feel you cant do something, keep on trying, be determined and one day you might be on the National team too!"
The females that turned out on Saturday were able to play games and to run through football drills with local coaches