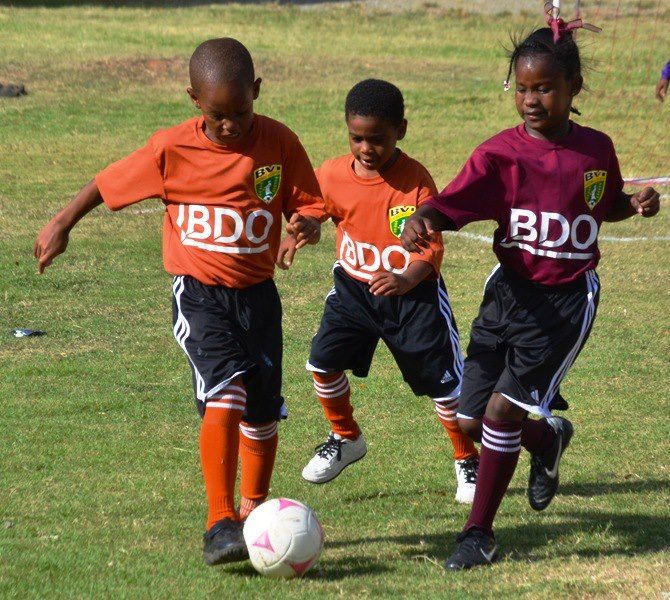 The FA / BDO Sponsored Primary School Leagues are well underway with Begrado Flax Educational Centre in fine free flowing scoring style.
Their U7 team had already recorded a 4-0 win over Enid Adams Maroons, courtesy of a hat trick by Shamari Lennard and a further strike from J'Leah Morton. Lennard went one better and scored all the goals as BFEC beat AMPS beat 4-1
AMPS Olive recorded a 2-1 win over Enid/Althea Scatliffe with Zavee Matthias scoring the winner after Ronell Jefferson's goal cancelled out an own goal.
Also, in U7 action the Seventh Day Adventist School got a forfeit win against Pelican Gate, Willard Wheatley drew 0-0 with AMPS Black and 1-1 with AMPS Olive with Ricardo Blair equalizing after Matthias had put the Olive's ahead.
Blake Kirk headlined in the U9 Division with a hat trick that put Cedar School well on the way to an 8-0 win over Althea Scatliffe Red. Ronaldo Estridge and Christian Esser both scored a pair each and Hugo Hlacer was also on the score sheet.
Alexandrina Maduro also beat the Reds, 6-0, with Elijah Maduro scoring four, Jaheim Bijai one and Amayao Walker also one. And the Seventh Day Adventist School, 7-0, with Bijai scoring six and Damion Miller the seventh. A 3-2 victory over WWPS followed with Maduro (2) and Rushane Dixon securing the win after Twariba Jacob had scored twice for WWPS
In the U12's, BFEC hit ten unanswered goals against Alexandrina Maduro/ Agape School, with Jaden Abrams scoring twice, Joel Mars and Jaeden Brown also notched a brace, whilst there was one apiece for Tikhoy Morton, Jadon Abrams, Andres Bailey and Benjamin Moore.
First Impressions had a much tougher time against AMPS/Agape, coming out 4-3 winners thanks to a last ditch own goal. Earlie Orrett Kennedy smashed home a hat trick which was cancelled out by two goals from Kymani Campbell and one from Jadon Glasgow.
Willard Wheatley / Francis Lettsome Primary combined also had a 7-1 victory over Claudia Creque Educational Centre with Sajahni Duports scoring three, Felix Walters two and both Antonio Bramble and Mervin Latouche one. Henrique Warren scored for CCEC.
WWPS then beat the five brave boys of St Georges by the same score line with a Walters hat trick matched by one from Antonio Bramble and Duporte also scoring
AMPS/Agape also had a 5-3 victory over Joyce Samuel Primary School thanks to a hat trick by Jaden Glasgow and one each for Khamari Smith and Kymani Campbell.  BFEC beat ASPS, 2-0, with T'Khoy Morton and Deshawn Richardson both finding the net.
St Georges beat Pelican Gate 3-0 on two goals from Jefferson Frank and one from Miseal Venzen, but then lost 10-0 to BFEC as Jaden Abrams scored a hat trick, Joel Mars two, Jaden Brown two, Deshawn Richardson one, Jadon Abrams one and Andres Bailey one.
In the High School League U15 Division, BFEC beat CCEC, 2-1, with Quelahni Nickie and Sheldon Toney scoring for BFEC and Kiara Fahie for Claudia Creque.
In the Open Division, BFEC beat Elmore Stout High School, 2-1, with a late Timothy Louis goal coming as consolation after Devante Samuel put BFEC ahead and Kyreek Gardiner doubled the advantage.