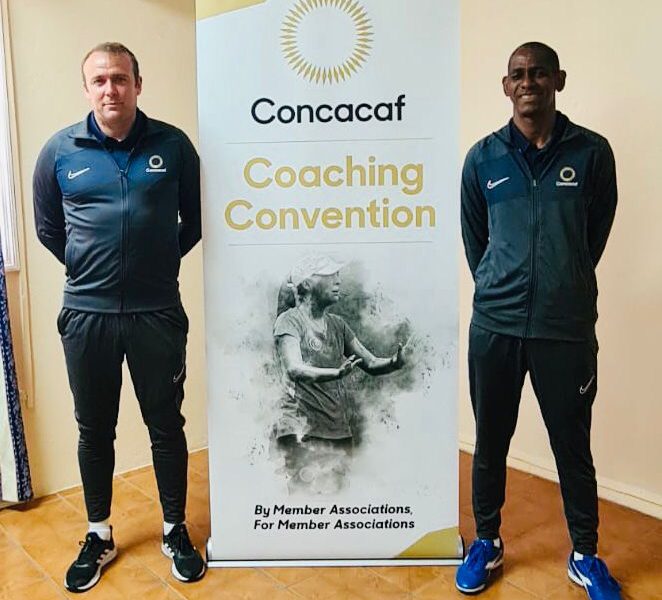 Technical Director, Dan Neville and Head of Coaching Education, Clinton Percival have just returned from a Regional Coaches Convention in St Lucia full of inspiration and ambition for local programs.
The Convention, the first of its kind within the CONCACAF Region and attended by Member Associations including the BVIFA, was hosted by Jason Rogers and Andre Waugh.
"The Concacaf coaching convention gave us a great insight into becoming a coaching convention member" commented Neville "As I have mentioned on several occasions coach education is at the forefront of our thoughts as we drive standards throughout the islands. The better we can equip coaches the better experience our players will have both in terms of development and enjoying a good overall experience when attending sessions. Tinnie, our head of Coach Education and I have taken lots away and will begin to implement in our programs on our return"
Neville also noted that attending the Convention empowered the FA to deliver its own "D" and "C" Licenses based on the FA Technical plan.
Percival also found the Convention educational and informative "it is a very good platform for countries to get together and share our methods on our respective islands. Another benefit is also getting coaches certified so we can participate in the convention, along with keeping a tight network to share best practices with our fellow Member Associations"
Both Percival and Neville will waste no time implementing some innovative ideas within their planning, but immediate attention will be on the Men's National Team who will be facing Cayman Islands and Puerto Rico over the next week in the CONCACAF Nations League.