Local Coaches took advantage of the FA's continuing professional development resources by attending a Webinar on Saturday presented by Jason Blake a EUFA Pro License Coach.
Several Regional Coaches and Technical Directors joined dozens of local Coaches in the webinar, hosted by Jason Blake, a EUFA Pro License Coach and founder of Global Soccer Education with over fifteen years' experience of soccer coaching in the English Academy system with Southampton FC, AFC Bournemouth and Burnley FC.
Blake, who is currently working with the Canadian Soccer Association as well as being the Technical Director of the West Canada Soccer Academy, took the participants through the basic principles of "Session Planning" and put across his own ideas on best practices as well as making sure everyone understood that Coaching is not all about following someone else's philosophy but also creating your own ideas through experience and knowledge sharing.
"Session planning should be kept simple" noted Blake "you don't want to give an overload of information to the players or cause confusion. I use the rule of 3, where I only plan for 3 practices within a session, 3 coaching points per practice and 3 progressions per practice."

Blake also pointed out that Coaches need to be consistent, have trust in the programmes they put together and stick to plans and include all players in the sessions with some built in flexibility in case things do not quite according to plan.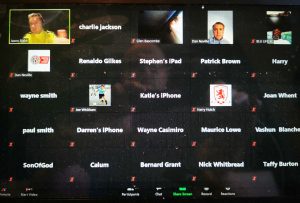 "Coach education is of paramount importance if we are to develop our football provision on the island. To have the best possible football we need to have the best possible coaches and to achieve that the FA is offering lots of opportunities and support for local coaches to continue to develop and improve." Commented Dan Neville the FA Technical Director.
Recently the FA has partnered with HLSCC as well as the ISSPF to assist in providing resources and online courses to further develop the knowledge of Coaches and the signs are already very encouraging as the standards of play across youth, women and men are on the rise.
The Playing side is not being ignored as the FA is also putting on Webinars that benefit that side of the game, including establishing clear player pathways, definitive understanding of roles, clear and precise tactical responsibilities by position, the importance of nutrition and the benefits behind a good night's sleep!