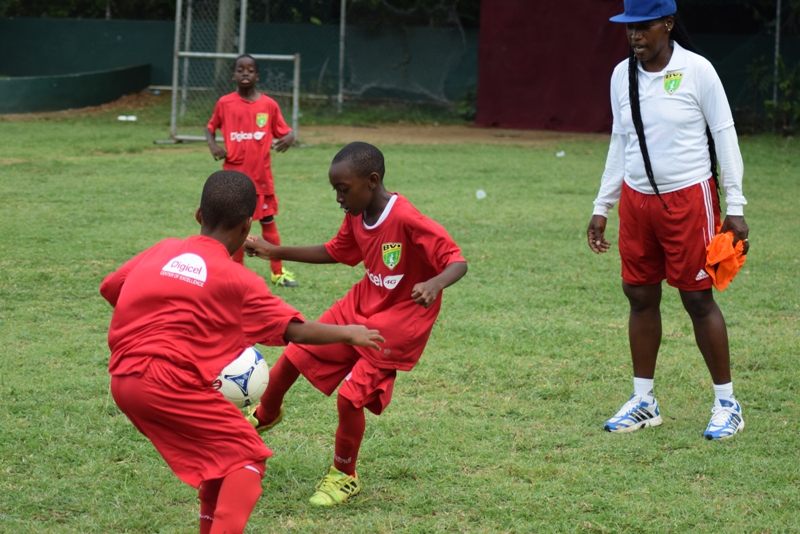 Digicel Centre of Excellence to feature fiesta of football at Summer closing party
the end of School report from the Football Associations Digicel Centre of Excellence, which had its last full sessions on Saturday 111th June, 2016, before a Closing for Summer Party next week, shows high marks across the board.
The COE is has been run both on Tortola and Virgin Gorda for over a 100 Boys and Girls under the watchful gaze of Cassandra Gregg, Avondale Williams and Thomas Albert, all of whom have been impressed with the willingness to learn and understand the importance of hard work and understanding the need to constantly improve from the players, who turn out week on week, rain or shine at the Millicent Mercer Playing Field in Baughers Bay and the Recreation Ground on Virgin Gorda.
"There is still a lot of improvements to be made" commented Cassandra Gregg "but with Digicel's continued support and the commitment of the FA Executive, we have achieved the first set of goals. Going forward the standard will continue to improve and we are starting to see a talented group of players across the age groups"
U9's, U11's, U13's, right up to U17's are all learning technical and tactical skills that will stand them in good stead as the FA looks to build on its ability to be competitive Regionally.
"One of the best things is that the pool of available players at a good level is getting bigger" noted Avondale Williams "We are even beginning to see a pool of possible goal keepers, which has always been a problem for us."
The success of the Digicel Sponsored COE has already been proven, when a team of U13's recently took part in a Tournament in St Maarten and although came home unbeaten in regular play, had to settle for a third place finish after a dramatic penalty shot out denied them a place in the Final.
"From within the programme we have not only seen that, though" noted Williams "already we have been able to set up an U16 league, which gives the players competitive games each week, but also have U17 Boys and U17 Girls National squads in practice and for once, thanks to Digicel, we actually have a group of players to choose from"
The increase in those playing the game at a higher level is not by chance, as each invited Boy or Girl has to prove their worth.
There is no entitlement or guarantee to be involved in the COE as it is designed to select the best of the best as well as those who show great potential and a desire to get better.
"Some parents were upset by the selection or non selection of children at the beginning" stated Gregg "However, once we got started and people began to see the importance of what we are trying to do in establishing high quality players for National Age Group Representation, the majority became supportive and vowed to help their kids get selected for the next intake"
The Closing for Summer Fiesta of Football is planned to be held on the Millicent Mercer Field on Saturday June 18th, 2016, from 9am until 1.00pm.
"All the participants in the Programme will be out, brightly decked in their Digicel shirts, playing 7 v 7 games, showcasing their skills and saying a big thank you to Digicel for supporting us in reaching our goals to improve Football" concluded Gregg