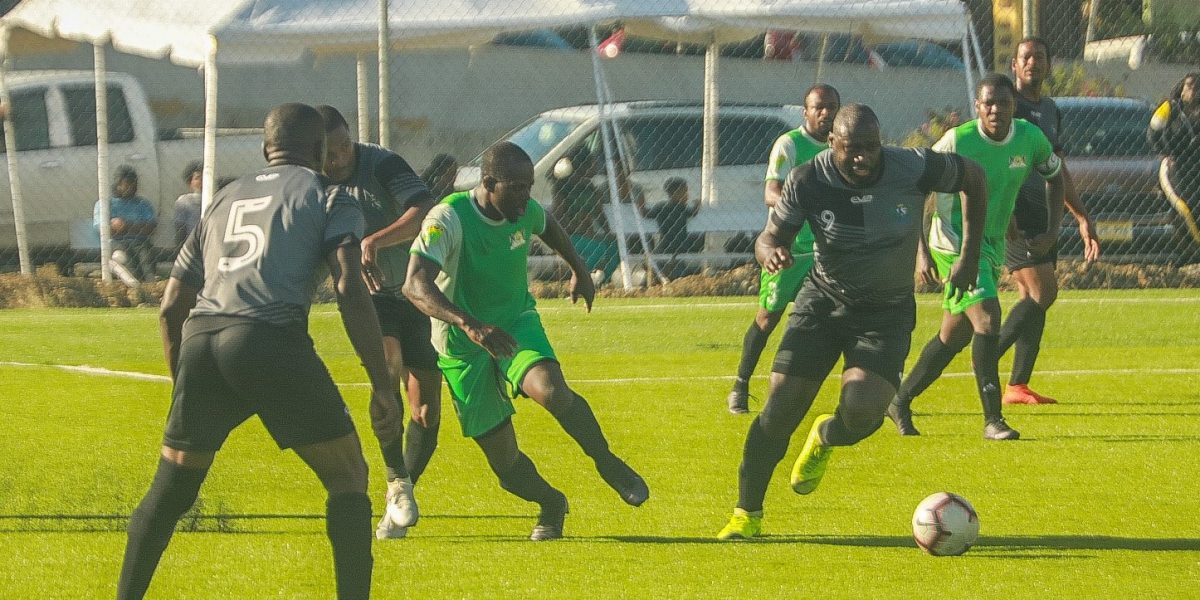 As the FA's Super 6 tournament continued over the weekend at East End / Long Look, One Love FC and Panthers FC shared the points after a last gasp Richard Morgan winner was disallowed.
Seemingly pointing towards the centre spot to signify a goal the Ref. was actually blowing the final whistle causing some momentary confusion, but all were soon shaking hands at the end of what had been a great advert for the way the game is improving standards wise.
Winning a corner in the dyeing seconds, Richard Morgan appeared to have grabbed all three points for One Love when he latched onto the loose ball and fired home only for the referee to have already blown for full time, leaving the game tied at 2-2.
Abner Williams had put One Love ahead in the 20th minute before Nigel Sanderson equalized from the penalty spot 9 minutes later. Williams restored the lead in the 41st minute and then just after half time Sanderson levelled things up.
The Wolues FC had an impressive 0-4 victory over VG United with two goal salvos from both Timothy Parsons and Robbie Green.
Parsons opened the scoring in the 8th minute running onto a Phil Nelson through ball to finish first time past the oncoming goalkeeper. Green added a second later in the first half when he was the first to react to a saved shot and placed the ball into an empty net. The third came after Parsons skilfully lifted a pass over a defender and headed past the outrushing keeper for Green to smash the ball into the empty net and Parsons added the fourth after neatly volleying home from a brilliant Luca Reich cross.
The Sugar Boys FC took all 3 points from a tough battle against Old Madrid FC as German Gonzalez scored the only goal of the game in the 47th minute.
"The goal was spectacular" commented McGraw Baptiste "both teams played well, and   Old Madrid have improved physically especially with their new signings. We missed quite a few clear chances in the second half, but overall, it was an exciting game."
The Islanders FC also got their campaign underway with a 3-0 victory over One Caribbean FC, which came as a relief to Captain Ranalie Cains "It was convincing in the end" claimed Cains "and a big relief after losing our first game (against the Wolues) and all the goals came from our brand of football, which was good to see."
Sheldon Harry in the 9th, Kevin Fisher-Daniel in the 54th and Oswort Holder in added time at the end of the game from the penalty spot.
Standings as of 1st March;