The Sugar Boys FC completed a League and Cup double as they beat Panthers FC 2-0 to lift the Presidents Cup on Sunday 26th June at East End / Long Look.
Both goals came in the second half as two evenly matched teams duked it out in front of a large crowd that surrounded the pitch, sat perched on neighboring walls and covered any other vantage points along the roadside.
"I would like to thank the spectators for coming out tonight and supporting football. Soon we will have a stand here (at east end) for you all to sit in" commented Mr. Andy Bickerton.
The Sugar Boys opened the scoring within five minutes of the second half starting as Oswart Holder found himself unmarked at the far post and headed home, whilst the all-important second goal came from a free kick right on the edge of the box, which was taken quickly with the Panthers defence slow to get organised and curled around the wall by German Gonzalez.
"Congratulations to Sugar Boys for being Presidents Cup and National League Champions" commented Competitions Committee Chair, Mr. Andy Davis" the season was a very exciting one, what would I encourage everyone to do for the upcoming season is to adopt a youth team if you don't have one and also a women's team. That is what I ask for next season and once again congrats to Sugar Boys"
"I'd like to congratulate both teams on a really good game tonight," stated FA President, Mr. Andy Bickerton "Panthers you defended very well, unfortunately you gave midfield to sugar boys who put you under a lot of pressure, but well played. Congratulations Sugar Boys, you played really good football tonight and dominated the midfield, when you dominate the midfield, it's only a question of time as to when you can score.so congratulations, I always enjoy watching you. We should all take a lesson from the Sugar Boys, because when they train, they play a lot of futsal and that means possession, control and movement and they show that when they are on the field. Other teams could learn from that, but I would encourage them to try find some young players from our youth teams to bring in and help them develop."
Along with the Presidents Cup, the Sugar Boys also were presented with their National League Championship Trophy, the U13 Youth Championship Trophy, German Gonzalez as National League MVP and their talisman, Derol Redhead, was named as Player of the Season.
The FA's Executive Member, Ms. Loralee Abrams also presented the end of season awards to Panthers FC as U13 runners up, U13 Best Goalkeeper Jevonne stevens (Sugar Boys), Best Midfield, Shamouri Leonard (Sugar Boys), Best Defender, Mario Carter (Panthers FC), Best Forward, Latriel Williams (Panthers FC), Most Goals, Myles Penn (Panthers FC).
U18 award winners were presented by First Vice-President Mr. Avanel Morton and included, league champions, VG Utd, runners up, Wolues FC, Best Goalkeeper, Jerique Samuels, (VG Utd), Best Defender, Michael Palladino (Wolues FC), Best Midfielder, Joel Mars (VG Utd), Best Forward, Adrian Padilla (One Caribbean FC), Most Goals, Sam Potgeiter (Wolues FC)
The women's awards were presented by General Secretary, Ms. Juliana Luke and went to the fourth placed team, the Panthers FC, third placed Wolues FC, runners up VG Utd and League Champions, Avengers FC. Best Goalkeeper, Britney Peters (Avengers FC), Best Defender, Ariel Mohammed (Wolues FC), Best Midfielder Kezia Gumbs (VG Utd), Best Youth Player, Chelsea Edwardes (Wolues FC), and MVP Lil-Makeda Fahie (Avengers FC). Manager of the year was Gloria Fahie (Avengers FC), and the Fair Play award went to Wolues FC.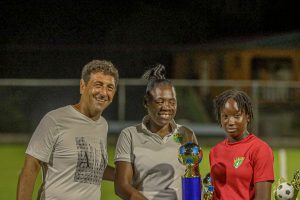 In the National League, Trophies were presented by Mr. Bickerton to Wolues FC for finishing fourth, Panthers FC as third and runners Up Rebels FC. The Golden Gloves Award went to Willis Buckley (Panthers FC), Golden Boot, Wayne Phillip (Panthers FC) Youth Player of the Season, Johari Lacey, Manager of the Year, Lenon Audain (Rebels FC) and Fair Play Award went to Old Madrid FC
Match officials, Laura Pompey, Sashana Duhaney and Referee of the Year, Carl Barrett were also presented with trophies
Special awards went to Quehlani Nickie, Johari Lacey, Justin Smith Sheldon Toney, Levon Williams, Mekhi Walters, Jalen Prentice, Michael Palladino for their exploits on the field as well as Academic achievements off it.