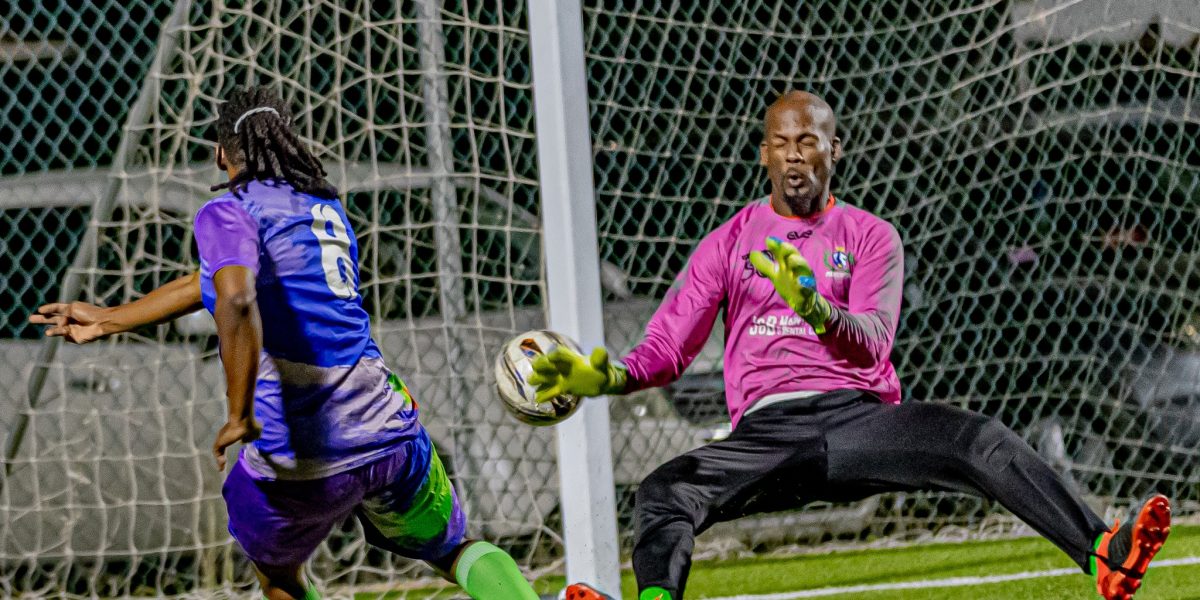 Both One Love FC and Sugar Boys FC claimed all three points from their latest National League encounters to keep the race for title on fire
One Love FC routed Panthers FC 7-2 in the National League last weekend to keep themselves two points clear of Sugar Boys FC who also recorded an important win over Wolues FC.
Shyane Prince netted  a brace in the 28th and 60th minutes either side of a Zeron Samuel strike in the 55th minute to make the scoreline 3-1 after Ezra Alleyne had levelled in the 38th minute. Collin Lavia made it 4-1 in the 62nd minute and Jermain May made it 5-1 two minutes later.
Alleyne scored his second to make it 5-2, but an own goal and a Chavaughn Williams score made the final score 7-2.
The win puts One Love on top the standings with forty points from 17 games, whilst Sugar Boys now have thirty eight from 15 games after a 4-2 victory against Wolues over on the Virgin Gorda Recreation Ground.
Alejandro Sanchez opened the scoring in the 21st minute, but Marcus Robinson made it 1-1 with an equalizer for Wolues in the 36th minute. McGraw Baptiste put the Boys back ahead on the stroke of half time and in the second half Alejandro Santos made it 2-2 with a goal in the 58th minute. However, in front of their home fans, the Boys wouldn't be denied an important victory in their hunt to retain the National League title as Derol Redhead smashed home two goals in the 76th and 90th minutes to secure the win
"it was a very important game and we needed the win" commented Redhead " the plan was to make sure we enjoyed ourselves, played well as a team and gave 100 per cent. The result what was we were looking for, as we are treating every game as a final."
"Sugar boys probably shaded the first half and had a lot of the better opportunities" rued Phil Nelson of Wolues "We came into the game after the break and were probably on top for 25 minutes, got an equalizer and probably should found the lead but were unable to capitalize. They scored a good third goal and we could never get much momentum going again. It was a good game that probably could've gone another way on a different day but well done to them, they know how to win these games. Any hope we had of winning the league is over, we will be trying to make sure we finish inside the top four"
The defeat leaves Wolues on thirty two points and in fourth place, equal on points with the fifth placed Lion Heart, who received a forfeit win over Old Madrid FC, and also potentially level on points with the third placed Rebels, whose game against VG United is awaiting a Referees report to determine if the game is deemed in favor of Rebels who were leading 4-2 when the Referee called the game off following an incident.